Single Advertiser Sports Bottle
Our Sports Bottles are white with printing in school's primary color with school name and mascot. They feature local business advertisments exclusive to their industry. The Bottles are free to any school organization, giving them the option to sell and retain 100% of the proceeds collected to use the items toward a giveaway. Bottles are a fun way for schools to raise necessary funds and businesses to place their business cards in the hands of current and potential customers.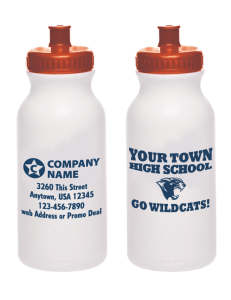 Bottle Ad Sizes
Our bottle ad sizes are a standard 3.5 X 3.5. The ad is printed on both sides of the bottle for sponsoring business to advertise. The ad space is capable of holding a logo along with three lines of text (up to 25 characters per line) allowing the business to use their own distinguished ad.